We are always on the lookout for bright, enthusiastic individuals to join our team – we're recruiting right now.
We are keen to talk to young people with a mature attitude and the desire to work for a company that's constantly developing and always looking to provide the best possible service. If you think you have the aptitude and the right approach – and would like to be working for one of the plumbing industry's biggest success stories – please get in touch with us today on 01837 650060.
We provide full training for all our new recruits, getting you qualified as simply and as quickly as we can. You can expect to be fully trained and qualified to practice within 12 months.
Continued training is offered to all our team members, and we encourage all our newly qualified plumbers to carry on with their education and turn themselves into experts.
We are always seeking qualified plumbers to join our team.
We also have places on our Apprenticeship Programme.
Please visit our Current Vacancies page to submit your CV.
Barkwell Plumbing & Heating Ltd have been awarded Bovis Sub Contractor of the Year 2016.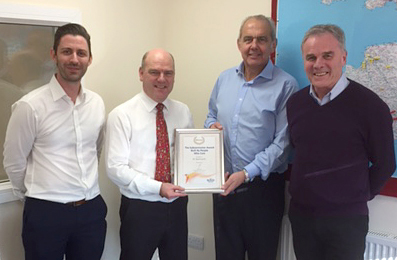 Robert Barkwell receiving the Award from Bovis Homes' Dave Farley.
Pictured l to r: John Escott – Bovis Commercial Manager, Dave Farley – Bovis Homes,
Robert Barkwell – Director, Peter Kiff – Barkwell New Build Manager
We are now approved as fully qualified Wood Burner fitters.